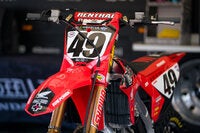 In this article we cover the reasons why motorcycle graphics installations don't go as well as you'd like and how you can avoid the mistakes that typically get in the way of an otherwise flawless installation.
1: Condition of Your Plastics
In a perfect world, graphics would be stuck to brand new plastics every time. But, who wants to toss perfectly good plastics? If your plastics are free of cracks or deep scratches, new graphics will stick just fine. Be honest; if they're on the rough side, buy new plastic to ensure that your new graphics have the best chance of staying on the bike for as long as possible.

The essentials needed for installing graphics
2: Preparation
Plastics need to be free from all contaminants before you proceed. If you're removing old graphics and stickers, use an alcohol based cleaner, methylated spirits, brake cleaner or even petrol to help remove all the old glue. A little bit of heat on the old graphics will help to release the glue from your plastics.

If you have removed old stickers from your plastics, some glue may be left behind as shown. It is important that this is all removed before installing your new graphics.
If you're applying graphics to brand new plastics, it's extra important to use one of the cleaners mentioned above to take off the wax coating that plastic companies use to make their product look extra shiny. If this isn't done, your graphics won't stick properly and likely peel.

Any alcohol-based cleaner will work to clean contaminants off your plastics. We mainly use Methylated spirits, or our purpose designed SKDA Prep Spray.
3: Installation
There are many different methods to install graphics, all with pros and cons. The following tips are based upon years of successful results installing many, many graphics kits.
> Make sure that your hands are free from oil and contaminants before beginning. A quick wash with something like Dawn liquid dish soap does the trick.
> We advise against using water, soap or any liquid for installation, as you need to ensure that every bit is removed from under the surface or bubbles will form. A bit of patience and planning is all you need to install a kit!
> Before removing the backing tape, take a minute to line the sticker up on the section you are working on to try and get an idea of how it is meant to align on the bike. If your graphics are die cut (like ours at SKDA), you can align the graphics against your bike and see exactly where bolts and edges are supposed to line up before you get into the nitty-gritty stuff.

 Before removing the backing tape, line up the graphics on the plastics so you can see where they are meant to line up on the plastics.

 Always start at a point you know must be exact, like the bottom corner of this front plate shown above.
> After you have an idea of where a piece is meant to sit, remove the backing tape and get to it. Always start at a section that must be perfect, such as a corner or bolt hole. After you have this section on, simply work your way along ensuring that no air bubbles are present. If you notice it is going on crooked, with bubbles or not how you like, simply pull it back off and try again. MX grade vinyl material is very forgiving and can be removed for another attempt several times. We always have a heat gun or hair dryer handy, as a little bit of heat makes the material that little bit softer to fold around sharp edges and curves. Be careful with the heat though, as too much will cause the material to become flimsy and harder to manage. Be patient and add heat little by little until you feel it is warm enough to manipulate how you need it.

 Bubbles happen, it's not the end of the world though! Simply peel back the sticker and try again. MX grade vinyl is super forgiving, so it can be peeled up and reapplied as needed.
> Once you have the graphics installed correctly, grab your heat gun again and go over all the edges, corners, and sharp changes of angle to give the kit one final heat cycle. This time you can get it a little bit warmer and really make sure that the graphics is holding to the plastic everywhere. You may find small edges lifting over the next few hours/days; simply reheat and push the sticker back down. This will "train" the vinyl to stay in its current form and not flatten out.

 Smaller edges may pop up in the days following the install, this is normal. Simply heat the area back up and reapply.
4: Patience
As mentioned in the above step, take your time with the install. Sticker material in the current age is very advanced compared vs. the material used in the past and it can be removed and re-applied several times when applying. It is that final heat cycle over the entire kit that really locks-in the graphics from being removed, activating the adhesive for a long-lasting stick.

Give the graphics one final heat cycle to really activate the glue in it's final position.

Congrats, you've just finished installing a section of your graphics. Now move on to the next section and repeat!
5: Aftercare
As mentioned above, you may find small edges lifting for a day or two after installing; take your heat gun and heat these sections and stick them back down again. Give your bike 2-3 days after install before riding/washing it; this will give your new graphics the best chance possible to dry to its new surface. Hard to resist riding, but worth the wait. After that, you're free to head out riding with the coolest looking bike in the pits!

ThumperTalk.com/SKDA collab graphics coming soon!
If you have any questions, hit us up in the comments section below. Feel free to add your personal tips & tricks for getting graphics installed to perfection.
SKDA (pronounced letter by letter; 'es-kay-dee-ay') is an Australian based moto graphics company, driving for global excellence.
We service local and international moto industries – Regardless of your accolades, our goal is to make you look world class with the most innovative designs in the business. Our expansive Online Store is updated constantly; therefore finding a design that suits your taste and needs is easy. All our kits can be customized to align with your requirements & desires.
SKDA graphics & seat cover products are manufactured in house, to ensure 100% consistency and quality. Our graphics products are printed on top-shelf US manufactured materials, with superior machinery & inks for perfect vibrant colors. We operate mainly from our headquarters based in Australia, whilst also providing localized support and print services from our overseas facilities in USA and Sweden.

Premium quality is simply non-negotiable.
Every product we sell is put through intense testing by our own people, to ensure it stands up to the level of expectation our customers embrace.

ORIGINALITY IS EVERYTHING. Our products are designed to stand out and sync with the unconventional characteristics of our customers. Our willingness to take risks and be adventurous co-exists with our audience. We embody transparency and to always be unique.
We uphold the highest standards to deliver exceptional results.

4